The Confessions of Augustine: An Electronic Edition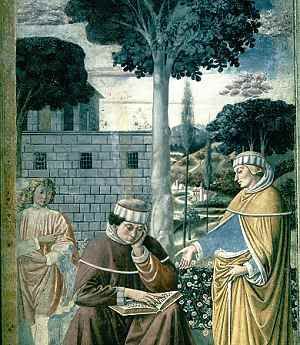 This document is an on-line reprint of Augustine: Confessions, a text and commentary by James J. O'Donnell (Oxford: 1992; ISBN 0-19-814378-8). The text and commentary were encoded in SGML by the Stoa Consortium in co-operation with the Perseus Project; the HTML files were generated from the archival SGML version.

Each book of the text has a link to introductory commentary on that book, and each section of the text has a link to detailed comments on the section. Links within the commentary connect not only to the section of text directly being annotated, but also to other parts of the text and commentary. Footnotes in the commentary appear at the end of each book; the footnote numbers are links from the commentary text to the footnote and from the footnote text back to the commentary. Where possible, links have been provided to the texts of classical works and Biblical passages cited in the commentary. Links at the end of each book of the text and commentary allow navigation to the next book or the previous one of text, commentary, or both together.